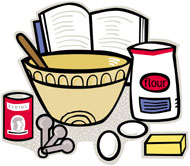 source: recipegarden.com
Finding good quality ingredients for baking in India has always been a difficult task. All our desire to bake that gorgeous fancy cake that we drooled on and on at someone's blog residing in USA or UK, has to die an early death because of this dearth of most baking ingredients. Forget about the fancy gumpaste or gluten free flours, even good food colours or a simple block of good cooking chocolate is not locally or easily available. Also you need to know and look for them at the right place. It took me a long time before I could lay my hands on simple white cupcake liners.They who have relatives abroad could be lucky but not all relatives are generous enough to give you a share of their precious luggage space to carry your prepaid tiny box of paper liners or gumpaste cutters.
In my 5 years stay in Bangalore (also the time when I started baking seriously) I discovered many places to get my baking goodies but this recent shift to Kolkata made me look for them from scratch. So here is my little attempt to jot down all the places that stock up some of the basic and not so basic baking supplies in Kolkata.
Before I start let me make an disclaimer that if you find this post similar to someone else's yes am totally inspired by Suma's post that helped a lot of people to look for preciosu baking items in right places. With a big thanks to her Am shamelessly following her here.
Apna Dukan
Near Babarali's back entrance.
Cake tins, moulds, baking equipments

They have good quality chocolate blocks including real chocolates,

almost all sweet and savoury baking ingredients

Creams from various brands

Jams, jellies stuffings etc
The staffs here are very helpful.
The prices are very reasonable.
Baborally Sirdar
Please check the prices, expiry date and quality if you plan to buy something from here. Recently there have been many incidents of customer complaining regarding prices and quality in this shop.
NB 45,47,48. New Market. Kolkata 87. (Opp.Kalakunj)
Mon.-Sat.: 11a.M. to 7 P.M.
This is kind of an one stop destination for all your baking needs
All types of cake tins: mostly those aluminium and non stick cake tins of all shapes and sizes. They even have muffin pans, cookie trays, swiss roll tins, bread pans etc. The quality of baking tins are really good with high sides.
Pie tin and tart moulds: aluminium pie cases in different sizes, also very small single tart moulds are available.
Bundt pans: 2/3 sizes are available in both aluminium and non-stick materials.
Cookie cutters: apart from the regular shapes, animal shaped cookie cutters are also available in 2 sizes.
Spring form Tin: saw 2 sizes. I bought one 9" size and its very good.
Silicon Moulds: only cup cake moulds are available.
Plastic chocolate moulds: in various designs.

Butter scotch bits.

Chocolate chips: various types of chocolate chips and virmicellis are available.
Sprinklers: 5-6 varieties of chocolate and sugar coated sprinklers are available. Like virmicellies and hundreds and thousands.
Cooking chocolates: Indian and imported dark and milk chocolate bars are available in 500 gms and 1 kg size.
Baking powder and baking soda of 2-3 brands are available.
Whipping cream: both dairy and non dairy creams are available. I bought the tropolite and Value star brands in 1 kg size. Rich's is also available in 2 kg size. These are a;; non dairy variety and is really really good.
Piping bags: separate bags with different nozzles are available here.
Baking tools: like spatulas, serrated knife, icing knife, cake comb etc are also available.
Muffin or cupcake liners: only white butter paper liners are available in the regular and small sizes.
Butter paper: available here and I saw them for the first time. Correct me if am wrong that they are not different from normal tracing papers.
Tutti frutti: available in red, green and yellow colour.

Food colour and essence are available

Tinned fruits: like cherry, pineapple and mixed fruits are there in big tins. Also pie filling of various types are available.
Cheese: all types of cream cheese, mozzarella and feta cheeses are available.
Wheat gluten: loose gluten is sold in min 1 kg qty.
Spring roll wraps: sold in min ½ kg qty.
Liquid glucose: carry your own container for this.

Fresh and dry yeasts.

White butter: in 100 gms size
readymade Fondant (Satin ice and Tropolite),

Gel colours,

Fondant tools,

Imported confettis and

flavours etc.
If you enter new market through the adjacent road to Metro cinema there are numerous shops selling fresh whipping cream (dairy).
This is situated on the road mentioned above. They stock on perishable baking items. But you need to buy these in bulk.
Tutti frutti

Dry fruits

Preserves

Pie fillings

Cake toppings

Muffin liners

Cake sprinklers

Colours etc
Spencers, South city mall
(check the gourmet food section near the payment isle)
Cream cheese: philadelphia brand

Mascarpone cheese

Amul cream (low fat; 25% )

Spatulas and palette knife

Ener-G egg replacer

Gluten free self raising and other flours

Vanilla and other essence

Cocoa powder

Dry fruits like almonds. Pistachio, prunes, raisins, pears etc

Tinned fruits

Imported preserves

Pie filling, mango puree etc.

Fresh cherries and strawberries: available during season
Edited in 2014
you will also get
Hazelnuts,

dried cranberries,

dried blueberries,

readymade bread and cake mixes.
Spencer's; Prince Anwar Shah connector
Cocoa powder

Self raising flours

Ener-g egg replacer

Baking powder

Cheese

Corn meal
Lower basement; South city mall
They stock on baking tools
Spatulas

Cake moulds, pie tins, cookie cutters

Borosil and Domit baking pans

Various knives, piping bags etc
Shops in Gariahat market:
There are various shops in ground and first floors. They sell almost all sizes and shapes of cake tins.
The shops selling dry fruits also store muffin liners in small and medium size. They also have silver cupcake liners.
Metro Cash and Carry; E.M.Bypass
This store is mainly for whole sellers but retailers can also buy if they have Business owner cards (you need to have a business, seeing which the authority there will issue your entry pass). This store has many items that are not available outside. But you need to buy things in bulk.
A Reader pointed out a store in New market who supplies Philly cream cheese at a very reasonable rate

: contact no.

09910759868.
DIVYA'S
23, canal street
Pratibha enclave
Block B kolkata 48
Near dafodil hospital, laketown - vip crossing
Contact - 9874470002 / 9330201212
Online stores are supplying almost everything under the sun these days. Try ordering from them if you dont get the required item locally but check the courier price and the courier company they use. Most of the time the shipping charges are on a very higher side and in Kolkata if the courier service is not one of those top strata you get very bad service. Trust be I had very bad experience so be sure to check this before you place your order.
Gourmetco.in

ccdshop.com you get almost everything

Bakersmart.co.in again for everything and the prices are very competitive

Also there is Passionatebaking. am not sure if they have a website. Try facebook to place order to them.
I have listed only the shops in southern Kolkata, which I am familiar with. If anyone knows of any shops apart from the ones listed above please drop me a line in the comments section. I will update this post at the earliest.
For Baking Supplies in Bangalore please refer to this post of Suma. she has done one tremendous job of listing everything under one post with Google maps.
http://sumarowjee.blogspot.com/2010/01/whipping-cream.html
Baking supplies in Kolkata, baking ingredients, baking supply, New market, hog market, babarali, chocolate, homemade chocolate, yeast in kolkata, where to get dairy cream in Kolkata, Kolkata non dairy cake topping cream, cream cheese availability in Kolkata, cheese in calcutta, super market finds in kolkata, Calcutta super market, where to look for glutten in Eastern India, one stop baking supply in Kolkata,